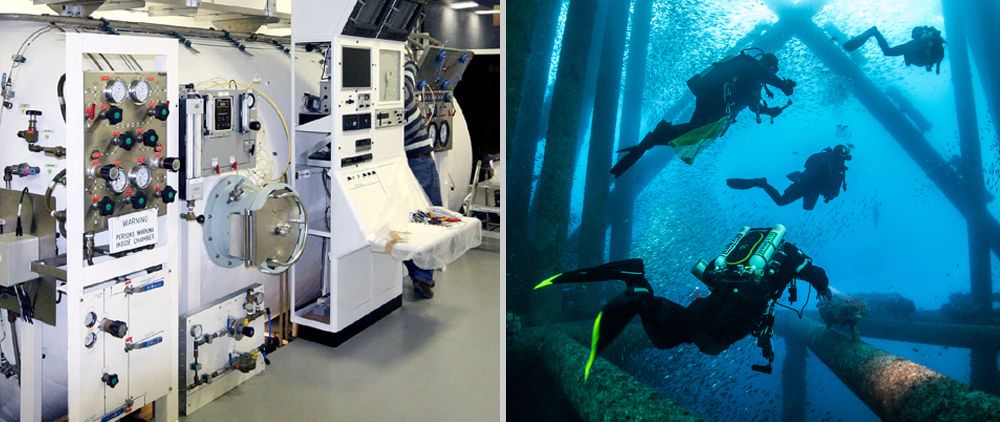 Sectors
Diving and Life Support
From the core range to individually designed products, including subsea designs, Pressure Tech work in partnership with our customers to provide a quality range of regulators cleaned to the highest standard for use on hyperbaric chambers, breathing systems and analyser systems. Our regulators cover forward reducing, back pressure, biased designs and custom solutions.
All products are designed and manufactured in the UK to the highest quality with full traceability on all machined parts.
Call Pressure Tech to discuss your pressure regulator requirements for BIBs, hyperbaric chambers, diving bells, control panels and analyser systems.
USEFUL LINKS:
- 'Brass Regulators for Diving and Life Support' flyer - click
here
to view.
Related Products
LF311

Low-Flow Pressure Regulator: Gas or Liquid / Piston / Solid Disk Seat / Non-Venting / Max. Inlet: 414 bar (6,000 psi) / Max. Outlet: 180 bar (2,610 psi) / Cv 0.06

LF540

Low-Flow Pressure Regulator: Gas or Liquid / Piston / Self- or Non-Venting / Max. Inlet: 690 bar (10,000 psi) / Max. Outlet: 414 bar (6,000 psi) / Cv 0.1

MF301

Medium-Flow Pressure Regulator: Gas / Piston / Self- or Non-Venting / Max. Inlet: 414bar (6,000psi) / Max. Outlet: 300bar (4,350psi) / Cv 2.0

LF310

Low-Flow Pressure Regulator: Gas or Liquid / Inconel® X750 Diaphragm / Disk Seat / Non-Venting / Max. Inlet: 414 bar (6,000 psi) / Max. Outlet: 35 bar (510 psi) / Cv 0.06 or 0.15